DOTR, MPTC Conduct RFID Sticker Installation in the House of Representatives
The Department of Transportation in cooperation with the House of Representatives through the offices of Majority Floor Leader Hon. Martin Romualdez and Committee on Transportation Chair Hon. Edgar Mary Sarmiento have conducted initial RFID sticker installation for vehicles in the HOR.
"We are behind DOTR Secretary Arthur Tugade's campaign to go cashless in the road sector and prevent the spread of the virus as well as ease the passage of vehicles in the expressways under Metro Pacific Tollways network." said Rep. Romualdez.
Similarly, Rep. Edgar Mary Sarmiento supports the use of RFID, stating that this is a step in the right direction. It follows international standards and would help curb the spread of the COVID-19 virus. He hopes that the private sector partners would continue to upgrade and improve the equipment being used which would make it more convenient for the public to adopt the new system.
The teams of Metro Pacific Tollways Corporation along with RFID company Easytrip Services Corporation enrolled new customers and installed the free RFID stickers. "In collaboration with the DOTr, we launched this initial ROAD TO 100% RFID Sticker Caravan for HOR vehicles that may traverse the NLEX, SCTEX, CAVITEX, and CALAX. We are also doing RFID sticker installation around Metro Manila thru the different local government units (LGUs), homeowners associations and in shopping malls to make it more accessible for motorists. The stickers are free and pre activated/pre-loaded with minimum Php200. The load is consumable and has no expiration." said Romulo Quimbo, MPTC Senior Vice President for Communication and Stakeholder Management.
The DOTR has earlier mandated the Toll Regulatory Board (TRB) to conduct public consultations regarding the issuance of Implementing Rules and Regulations for DOTR Memorandum Circular 2020-12 Requiring Cashless or Contactless Transaction For All Vehicles Traveling on Toll Expressways.
The entire MPTC expressway network is now fully transitioning to a cashless toll collection system.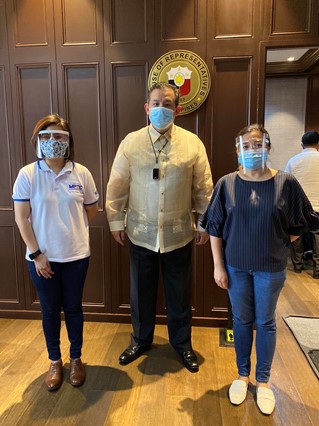 For inquiries about this press release please email us at:
corpcomm@mptsouth.com