About MPT South
We are Metro Pacific Tollways South and we are committed to developing infrastructure geared towards nation building. By developing networks of world-class toll-roads in partnership with the Philippine government, we aim to serve the Filipino people by bringing businesses, friends, and families closer together. Our operations span from Metro Manila to Southern Tagalog of the Philippines.
VISION
We lead the region in providing the ultimate mobility experience, through vital integrated infrastructure, powered by innovative technology, driven by sustainable operations and our highly engaged people.
MISSION
We bring good life to people by enabling them to enjoy freedom of journey and making every region accessible through mobility infrastructure solutions and sustainable practices.
I-CARE CORE VALUES
Innovation – We are relentless in continuously exploring new ways to improve and reinvent existing structures to deliver fresh and updated products and services all the time to the customer.
Corporate Sustainability – We have socially caring, sustainable use of resources and a heart of service to the people, to the planet and to progress.
Agility- We are efficient in knowing the needs of the customer before they even know they need it, and provide solutions ahead of everyone else.
Responsiveness- We are wholeheartedly committed to ensuring the customers needs are addressed – at the right time, right place, by the right person.
Excellence- We are confident in delivering outputs and results, and doing it right the first time, all the time.
Our Projects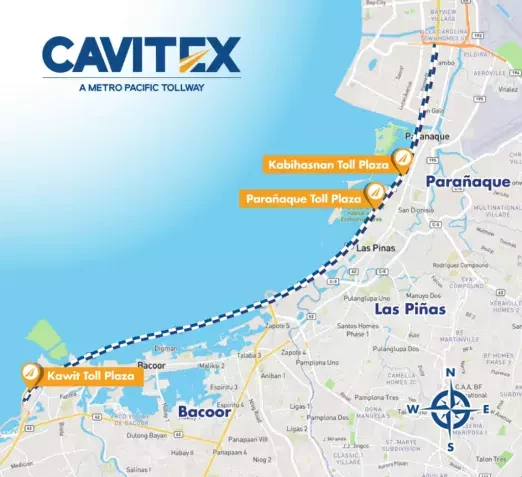 The CAVITEX is a 14km premier expressway that spans from Roxas Boulevard to Cavite. This road provides a convenient, safe, and enjoyable travel experience to commuters and motorists. Cavitex is a joint venture project between the Philippine Reclamation Authority and the Cavite Infrastructure Corporation (CIC) a subsidiary of the Metro Pacific Tollways Corporation. Cavitex is comprised of R-1 and R-1 Extension and is officially referred to as the Manila Cavite Toll Expressway Project or MCTEP. With our extensive experience on road management, state-of-the-art facilities, and an earnest desire to serve, we want to give travelers passing through our expressway a smooth and hassle-free driving experience. Visit https://www.cavitex.ph/ to know more.

Manila-Cavite Toll Expressway Project (MCTEP) also includes the CAVITEX C5 LINK consisting of segments 2 and 3 with a total length of 7.7 km from C.P. Garcia Ave, Taguig to Paranaque City. Segment 3 includes the 2.2-km C5 flyover that will cross over the SLEX and Metro Manila Skyway between C5 Taguig City and Merville, Pasay City. This will drastically shorten travel time in that corridor from 1.5 hours via Sales Road, to just under 3 minutes and will serve as the latest alternative route for commuters between Fort Bonifacio, C.P. Garcia Avenue (C5), Taguig City and Pasay City.
This 4-lane, 45-kilometer expressway begins near the SLEX-Mamplasan Interchange in Laguna and will exit on the CAVITEX at Kawit, Cavite. On its completion, it will serve the 50,000 motorists passing through Laguna and Cavite by reducing travel time​ to under an hour, alleviating traffic, and providing a safe, efficient, and scenic drive.
The CALAX has a total of 8 interchanges and is composed of 2 segments.
The First Segment begins at the toll barrier coming from the South Luzon Expressway and Mamplasan Rotonda in Binan, Laguna;
The Technopark Interchange connects to the BPO, manufacturing, and automotive hub of Laguna;
It then proceeds to the Laguna Boulevard Interchange giving direct access to this blooming IT and industrial location.
The Santa Rosa-Tagaytay Road Interchange provides an alternate route to Tagaytay while improving access to the bustling eco-community in Santa Rosa.
Likewise, the Silang East Interchange also serves as an alternative entry point to the popular tourist destination, Tagaytay.
The next 35-kilometer begins at the Silang Interchange, which gives alternate access to the agro-industrial and business centers of Dasmarinas.
While the Governor's Drive Interchange provides an easier route to industrial estates and its serene residential communities.
The Open Canal Road Interchange in General Trias leads to numerous commercial, residential, and industrial developments.
Finally, the CALAX will link to the CAVITEX connection from the Open Canal Road via the CAVITEX CALAX LINk - and will serve as the southern end of a network of toll roads that will give business, families, and friends seamless access through Laguna, Cavite, Las Piñas, Manila, Pañaque, and Taguig like never before.
Know more about other toll roads