CALAX Subsections To Silang, Cavite In Full Swing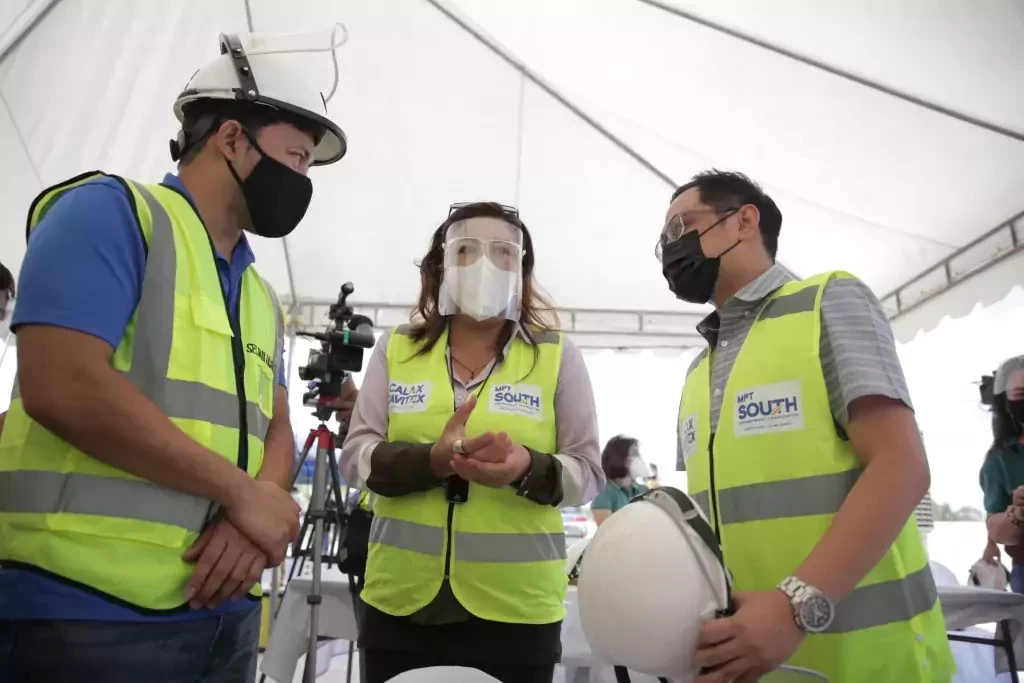 Santa Rosa, Laguna-- The Department of Public Works and Highways (DPWH) Secretary Mark A. Villar, together with MPCALA Holdings Inc. Executives, conducted an ocular inspection for the construction development of Cavite-Laguna Expressway (CALAX) Subsection 5S targeted to open to motorists, by 3rd quarter of 2021.
The MPCALA HOLDINGS INC. (MHI), a subsidiary of Metro Pacific Tollways Corporation (MPTC), has already achieved, 83% construction progress on the new Subsection 5 of CALAX.
"As travel restrictions are slowly but surely being lifted, this new subsection of CALAX will help accelerate economic progress in Laguna and Cavite by providing interconnection between the two provinces of Region 4-A. This segment is crucial since it is expected to serve almost 5,000 cars per day, and will ease traffic along Governor's Drive, Aguinaldo Highway, and Sta. Rosa-Tagaytay Road once opened. Right of way acquisition has been a challenge, so we are giving our full effort to deliver and eventually open with as little deviation to the original timeline as possible. The completed and operational segments namely Mamplasan to Santa Rosa are currently servicing about 10,000 vehicles daily. We target to finish the whole 45Km stretch of CALAX and serve 50,000 cars before 2022 ends." said Sec. Villar.
Subsection 5 covers the 7.2-kilometer link from Santa Rosa-Tagaytay Interchange to Silang East Interchange. On-going works include bridge deck and pavement construction, drainage works, road furniture and sound barriers, and structures of Silang (Aguinaldo) Interchange
"With the combined efforts of DPWH and MHI we are optimistic and excited to open the new Subsection 5, hence as soon as Right of Way is handed over to us, we double construction efforts to avoid any unnecessary delay, while ensuring safety in the workplace," said Mr. Roberto V. Bontia, MPCALA President and General Manager.
A simultaneous intensified effort is the construction of Subsection 4 which is up to Silang (Aguinaldo) Interchange 1st quarter of 2022.
Moreover, according to Mr. Bontia, MPCALA strictly follows the Department of Public Works and Highways (DPWH) and COVID-19 Inter-Agency Task Force (IATF) health protocols to ensure the protection of its workers from COVID-19.
Upon completion this 24.2B, 4-lane expressway will connect the Manila-Cavite Expressway (Cavitex) in Kawit, Cavite to the South Luzon Expressway (SLEX) at Greenfield (Mamplasan) Interchange in Biñan, Laguna.
CALAX spans 45-kilometers and has eight (8) interchanges beginning at Kawit, Governor's Drive, Open Canal, Silang (Aguinaldo) Highway, Silang East, Santa Rosa-Tagaytay, Laguna Boulevard, and Laguna Technopark.
MPTC holds the concession rights for the CALAX, CAVITEX, C-5 Link Expressway, North Luzon Expressway (NLEX), NLEX Connector Road, Subic-Clark-Tarlac Expressway (SCTEX), and Cebu-Cordova Link Expressway (CCLEX) in Cebu.
For inquiries about this press release please email us at:
corpcomm@mptsouth.com