MPTC Distributes Noche Buena Baskets to Medical Frontliners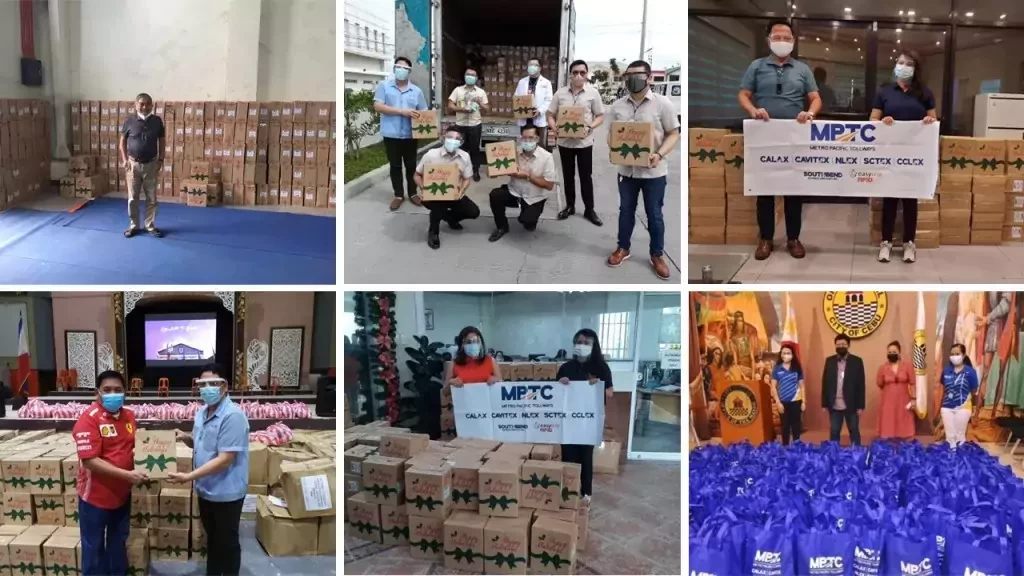 Metro Pacific Tollways Corporation (MPTC) provided Noche Buena baskets to 8,550 medical frontliners in communities within the NLEX, SCTEX, CAVITEX, CALAX, and the upcoming CCLEX during the recent Christmas holiday. The effort was part of MPTC's commitment to support the healthcare workers in their continuing fight against the COVID-19 pandemic.
Noche Buena packs were given to medical frontliners in 45 cities and municipalities from the North and South Luzon including the Visayas region. Instead of sending out gifts to various stakeholders, MPTC used its Christmas gifts budget to give back and bring cheer to the real-life heroes in the battle over the global health crisis.
"This program is in recognition of the invaluable service of our medical frontliners. As the country was beset by challenges in 2020, we at MPTC, would like to fulfill the essence of the
season and somehow lighten up the burden of our health workers," said MPTC President and CEO Rodrigo E. Franco.
MPTC personnel made rounds to distribute the donations aimed at sharing the spirit of Christmas with the frontliners and their families. Among the areas covered include the cities of Quezon,
Caloocan, Malabon, Navotas, Valenzuela, Parañaque, Pasay, Taguig, Pasig, and Las Piñas in Metro Manila; several LGUs in Bulacan, Pampanga, Tarlac, Bataan, Cavite and Laguna; Nasugbu, Batangas as well as Cordova and Cebu City in the province of Cebu.
Recognizing our role in Luzon's supply chain, MPTC expressways remained open during the early months of the lockdown, following the IATF guidelines, to assure the unhampered movement of cargoes and goods, as well as the efficient commuting of medical frontliners and other essential workers. MPTC personnel rendered 24/7 service to ensure continued operations of NLEX, SCTEX, CAVITEX, and CALAX. On Christmas and New Year, motorists also enjoyed a toll free travel as toll fees were not collected on all MPTC expressways from 10:00 p.m. of December 24 to 6:00 a.m. of December 25 and from 10:00 p.m. of December 31 to 6:00 a.m. of January 1, 2021.
MPTC, through its business units, also provided free shuttle and free toll to doctors, nurses, and other healthcare professionals to support the mobility needs of frontliners in the COVID-19 efforts. MPTC companies distributed food donations to 220 barangays within the MPTC expressway network. They also launched a donation drive to purchase 4,500 personal protective equipment for frontliners in eight North and South Luzon hospitals.
For inquiries about this press release please email us at:
corpcomm@mptsouth.com