CALAX Brace for Long-Weekend, 2022 Election Day Motorist Surge
With over 67 million Filipinos expected to participate in the 2022 National Election, MPCALA Holdings Inc., the concessionaire for the Cavite-Laguna expressway (CALAX) gears up as it expects a surge of motorists passing through its expressways, starting May 6 until election day, May 9, 2022.
The toll road company stated that it will ensure enough deployment of traffic marshals, security teams, and toll plaza personnel to be able to provide immediate assistance to motorists in need. 
Lane closures, unless for safety repairs and/or emergency, will be suspended during the peak season to ensure smooth flow of traffic. Moreover, MPCALA will also continue to provide 24/7 motorist assistance for safer and more convenient journey of travelers. Customer Service Center and its hotline 1-35000 will be attended 24/7 for motorists' concerns. Emergency call boxes, located along the expressway, can also be used for immediate roadside assistance.
"Many voters are expected to hit the road and come home this election week to cast a vote for their candidates. This coming election day, always remember to vote wisely and drive safely. Aside from having a list of who to vote for, we strongly advise our motorists to include BLOWBAGETS car checklist before driving off," said Mr. Raul L. Ignacio, MPCALA Holdings Inc. President and General Manager.
BLOWBAGETS, a handy mnemonic popularized by the PNP-Highway Patrol Group, is a proven car checklist reminder before hitting the road to prevent vehicular accident and breakdown. It stands for battery, lights, oil, water, brakes, air pressure, gas, engine, tires, and self.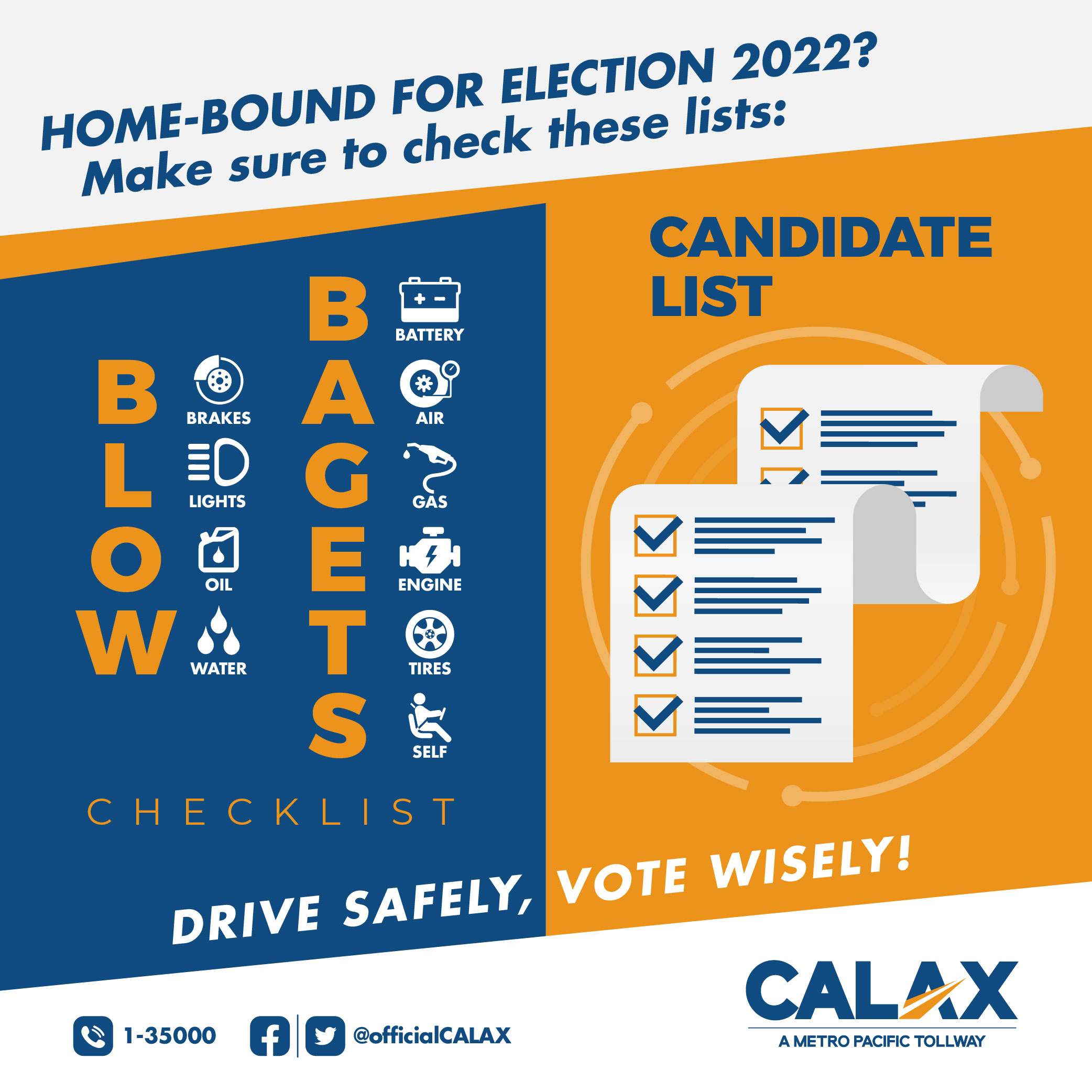 MPCALA also encourage motorists to use Easytrip RFID to keep away from the long lines at cash lanes. Those who have no RFID yet may have it installed for free in any of the Easytrip stations just by paying the initial load of P200.
Existing users are advised to reload their Easytrip RFID account and ensure positive load balance to avoid inconveniences at toll plazas. Motorists can also monitor the latest traffic update, and reload their RFIDs using DriveHub app.
MPT DriveHub is an all-in-one travel app available for free from the Apple App Store and Google Play. Drive Hub integrates three key functions in one: RFID transactions, trip planning, and emergency roadside assistance.
MPCALA Holdings Inc. is a subsidiary of Metro Pacific Tollways Corporation (MPTC), the toll road development arm of the Metro Pacific Investments Corporation (MPIC). Aside from the CALAX, MPTC's domestic portfolio includes the concessions for the Manila-Cavite Toll Expressway (CAVITEX), the North Luzon Expressway (NLEX), the NLEX Connector Road, the Subic-Clark-Tarlac Expressway (SCTEX) and the Cebu-Cordova Link Expressway (CCLEX) in Cebu.
For inquiries about this press release please email us at:
corpcomm@mptsouth.com