MPT South Brings Home Two Quill Awards
Metro Pacific Tollways South (MPT South), a subsidiary of Metro Pacific Tollways Corporation (MPTC), the toll road development arm of Metro Pacific Investments Corporation (MPIC), marked another milestone by bagging its first Quill award for demonstrating excellent communication for two of its programs, "Biyaheng South" and "Drayberks".
During the 19th Philippine Quill Awards virtual awarding ceremony, the International Association of Business Communicators (IABC) Philippines honored an Excellence Award under the Communication Management Division for Marketing, Advertising, and Brand Communication category the MPT South's "Biyaheng South", which has been active on social channels like Facebook and TikTok, for promoting its toll road network Manila-Cavite Expressway (CAVITEX and CAVITEX C5 LINK) and Cavite-Laguna Expressway (CALAX) as a gateway towards the sensational sites and attractions in South - particularly in the fastest growing provinces of Cavite and Laguna.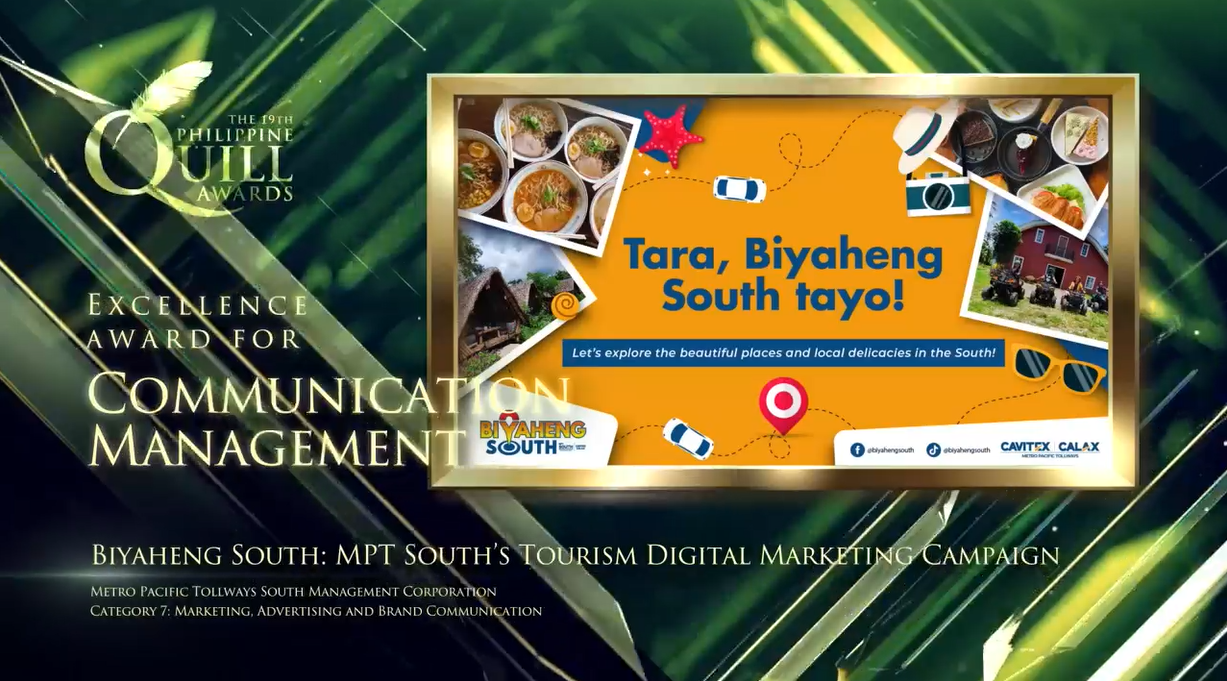 With over 20,000 combined followers for both digital platforms, Biyaheng South was able to generate more than 1 million views on TikTok and gain a lifetime reach of 75,000 on Facebook, increasing vehicle traffic count along its expressways and helping boost the economic growth of the provinces hampered by the pandemic.
Furthermore, the toll road company's social advocacy "Drayberks" took home a Merit Award under the Communication Management Division for the Community Relations category. Since 2020, Drayberks continue to gather motorists, key stakeholders, and residents of surrounding communities in NCR, Cavite and Laguna for a road safety seminar that educates them about the safety features of the expressway and their role in keeping the road safe for everyone.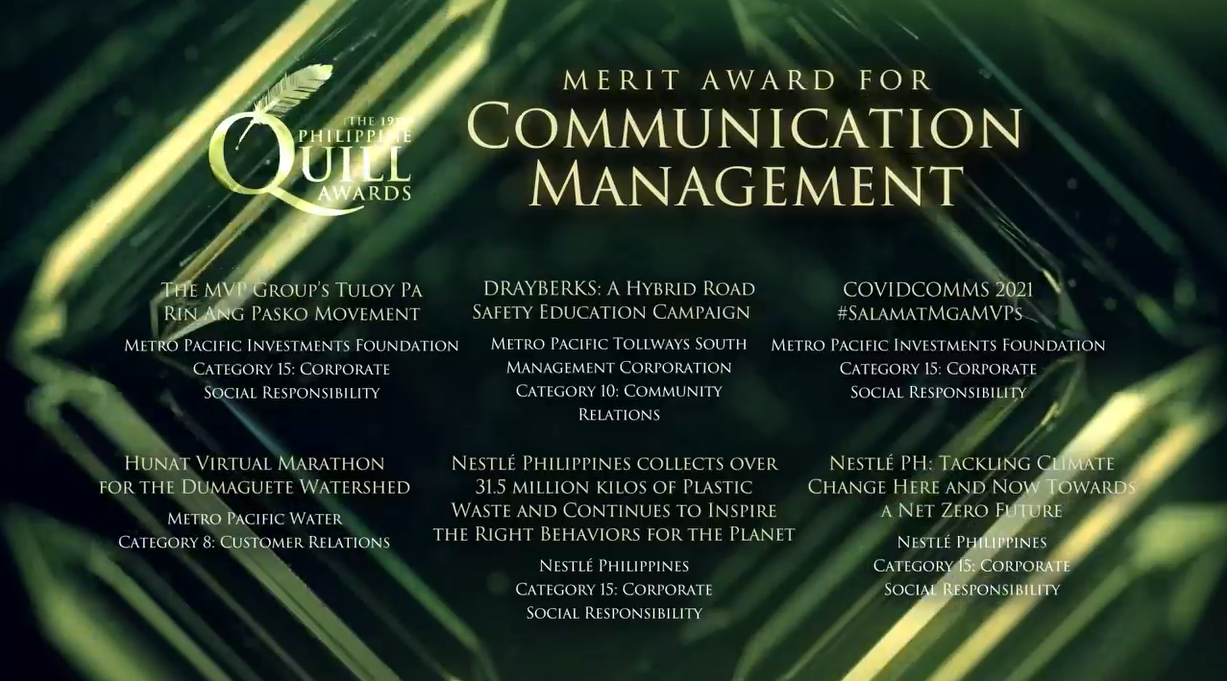 With the imposed restriction for COVID-19 preventing gathering, MPT South did not waver on its commitment to creating road safety advocates. Instead, Drayberks shifted to a digital program in 2021 while ensuring that the interaction and interest of the audience are maintained. This results in achieving a constant decrease in traffic incidents from 2019 to 2021 and contributing to MPT South's goal of Zero Fatality, which the company attained since 2017.
"MPT South has always been aggressive in communicating with our audiences regardless of the channels and it is a huge honor for us to receive this prestigious award. This will motivate us to explore more ways of communicating with our customers to introduce better ways toward better days in the most creative way," said Ms. Arlette Capistrano, Assistant Vice President for Communication and Stakeholder Management of MPT South.
The Philippine Quill Awards is the country's most prestigious awards program in the field of business communication and has been bestowing the seal of approval to the most reputable organizations and corporations in the nation since 1983. For this year, IABC received more than 800 entries - the highest in Quill history.
MPTC is the biggest toll road builder and operator in the country. Aside from the CAVITEX and CALAX, MPTC's domestic portfolio includes the concessions for the North Luzon Expressway (NLEX), the NLEX Connector Road, the Subic-Clark-Tarlac Expressway (SCTEX), and the Cebu-Cordova Link Expressway (CCLEX) in Cebu.
For inquiries about this press release please email us at:
corpcomm@mptsouth.com